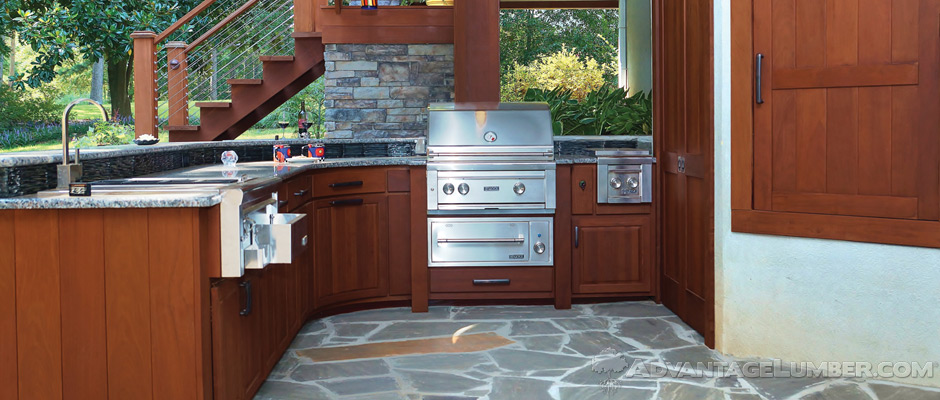 Building an outdoor kitchen is a major investment. You want to make sure you are using materials that are going to hold up to the outdoor environment as well as the abuse of kitchen wear and tear.
You are probably looking at spending thousands of dollars on top of the line stainless steel appliances for your outdoor kitchen.
The last thing you would want is to spend a lot of time and money on an outdoor kitchen and have your grill in your outdoor kitchen rust out after 5 years and force you to redo your outdoor kitchen.
Many homeowners want their appliances to sit in cabinets or an outdoor bar built out of a beautiful long lasting wood.
Woods You Should Not Use for an Outdoor Kitchen
We suggest staying away from softwoods such as pressure treated pine, cedar and redwood.
These softwoods are all susceptible to rot, wood boring insects and are can catch fire quickly. In addition they require yearly maintenance with waterproofing sealers that will peel off.
This will leave you scraping and sanding all the wood and then reapplying the sealer each year. Waterproofing sealers help keep water from penetrating the grain of softwoods which would lead to faster rot and decay.
Additionally your outdoor kitchen will more than likely be placed on a concrete slab foundation. Depending on the design of your outdoor kitchen your cabinets or bar will be sitting on top of the concrete.
Concrete wicks moisture so softwoods sitting on top of concrete will rot faster at the base.
These are just a few reasons why we don't recommend these softwoods for an outdoor kitchen.
Best Woods for Outdoor Kitchens
There are a few species of wood that we've found to be proven to perform incredibly well in outdoor environments such as outdoor kitchens.
These species are Ipe, Cumaru, Tigerwood, Garapa and Massaranduba. They all come from South America and have proven to last up to 75 years or more with very low maintenance.